Lodge scholarships are available.

Visit the Notices page for more information.

Next Meetings of the Lodge
Members needed for the Fellowcraft Team!! We have several candidates in the degree process right now and need people help present the Master Mason Degree. Please join us for their Raising.
April 2nd, 7:30pm Stated Meeting
Degree work will be announced.

April 16th, 7:30pm Stated Meeting
Degree work will be announced. There will be a family dinner before the meeting at 6:30pm by the DeMolay Chapter.
April 30th, Grand Master's Reception

Social Hour is from 5:30 to 6:30 with dinner at 6:30. Tickets are available from the Secretary for $35.00 each. The Youth in Excellence Award winner is from the ET Rogers DeMolay Chapter in Tiffin. Let's have a strong turn out to show our support of the Masonic youth in Tiffin.

May 4th, 16th District One Day Class
Details TBA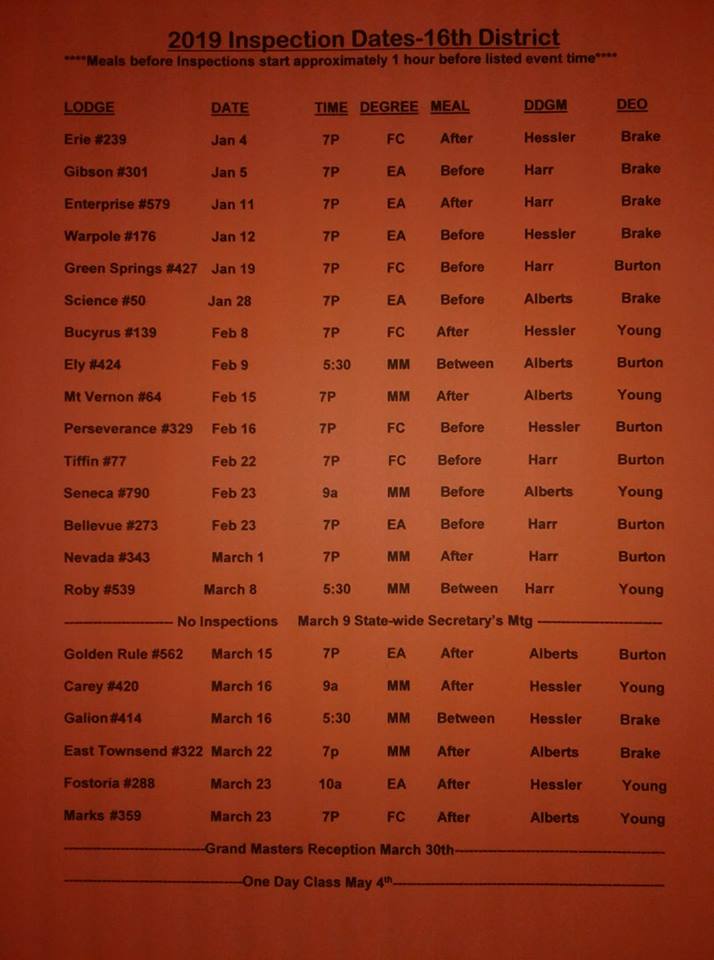 Let's do something a little different. Call a Brother who has not been up to the Lodge for awhile, and invite him to attend with you. It is time to renew some of those friendships we have had for so many years.

* * * .

Submarine Sandwiches
We will be making sub sandwiches on March 9th.
Our subs have changed. We are now making two subs on smaller
buns for the same price. You get just as much and don't
have to cut it in two for a snack.

The more orders for subs, the we can make this a truly worthwhile

project and increase our donations to the various charities we support. Please consider asking your friends and neighbors

if they would like delicious subs.